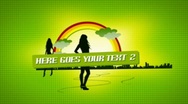 Additional Information
Date Uploaded
30 Apr 2011
Required Software: After Effects CS3© or newer
Description
This superb looking project can be used as commercial ad spot, intro for varied themes or may be an opening montage for your youtube channels. It can easily be adapted to any color scheme. I have included 'Trapcode Shine' as pre-rendered layer & also the actual comp for those who own the plugin. PROJECT LENGTH : 00:39 Seconds. Your inserted photos can appear in their Actual Color too. (without green tint effect).

Photos & Fonts are NOT Included.
Native resolution is 1920x1080.
HD720, PAL, NTSC versions also Included.
Music & Sound Fx are INCLUDED ! (Synced)

Note: The music is under copyright & it is licensed for use within THIS After Effects Project ONLY. If somebody wants to use the music as a standalone file for any purpose outside the scope of this particular After Effects project then they need to buy a separate license, for that you can send me an email through pond5.
Keywords