Sound Effects
Car Interior: In The Car Wash - Clean, Brush, Spray, Dry - Whole Cycle, Long!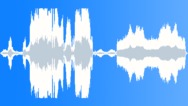 Technical Information
Additional Information
Sound Effect ID#
22882887
Available for Musical Works
Date Uploaded
27 Apr 2013
Description
At the car wash! The machine car wash at a gas station, recorded from inside the car. The whole cycle: start, water dripples, splashes, sprays. Rollers brushing the car, hot air, wax applied. All the different stages are captured, lots of material to cut and edit, very long sample. Stereo.
Keywords