Stock Footage
Stock Footage - Emergency Scene - Intense Fire - Zoom Inside Front Door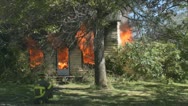 Description
House on fire as fire fighters rush in to contain. Large blaze, 2 storied home. Total loss as structure collapses under the damage.

Zoom inside the front door to see incredible detail through the windows of the real life emergency. Smoke, raging fire, and a fireman come into the scene.

1080p, HD

* No color correction used, all shot neutral.
Keywords