Stock Footage
No Helmet Downhill Snow Skiing Skier (Vintage Film Home Movie Footage) 3154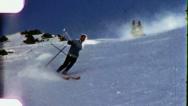 Technical Information
Additional Information
Location
Everytown, USA, United States
Source
HD digital frame-by-frame telecine transfer of home moive footage.
Date Uploaded
17 Aug 2012
Description
Click to see all Vintage Film Snow Ski video clips!










Skiing is a recreational activity and competitive sport in which the participant attaches long runners or skis to boots or shoes on the feet and uses them to travel on top of snow. Aside from recreation and competition, skiing has been used for military purposes and even travelling in areas that experience heavy snowfall.
Keywords