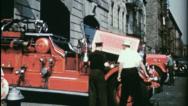 Technical Information
Additional Information
Location
New York City, Manhattan, USA, America, NYC, The Big Apple, United States
Source
HD digital frame-by-frame telecine transfer of home movie camera footage.
Date Uploaded
27 Aug 2012
Description
Click to see all Vintage Film New York video clips...









































FIREMEN FIRETRUCK STATION NYC 1950s (Vintage Retro Film Home Movie) A fire station (also called a fire house, fire hall, or firemen's hall) is a structure or other area set aside for storage of firefighting apparatus such as fire engines and related vehicles, personal protective equipment, fire hoses and other specialized equipment. It may also have dormitory living facilities and work areas for the use of fire fighters.New York is the most populous city in the United States and the center of the New York Metropolitan Area, one of the most populous metropolitan areas in the world. The city is also referred to as New York City or the City of New York to distinguish it from the state of New York, of which it is a part.
Keywords