Stock Footage
Pipe Stress Test Metal Explosion 1960S (Vintage Industrial Film Home Movie) 3613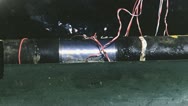 Additional Information
Location
Gusher, Texas, Alaska, United States
Source
HD digital frame-by-frame telecine transfer of home moive footage.
Date Uploaded
28 Aug 2012
Description
Click to see All Vintage Film Oil Industry
















Stress analysis
is an engineering discipline covering methods to determine the
stresses
and
strains
in materials and structures subjected to forces or loads.
Stress analysis
is a primary task for civil,
mechanical
and aerospace engineers involved in the design of structures of all sizes, such as tunnels, bridges and dams, aircraft and rocket bodies, mechanical parts, and even plastic cutlery and staples.
Stress analysis
is also used in the maintenance of such structures, and to investigate the causes of
structural failures
.
Keywords