Stock Footage
Hi Speed Construction Machinery Earthmovers 1950S (Vintage Film Home Movie) 4650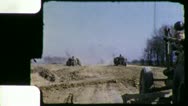 Additional Information
Location
Ohio, United States
Source
HD digital frame-by-frame telecine transfer of home movie camera footage.
Description
Click to see all Vintage Heavy Machinery video clips































Heavy equipment refers to heavy-duty vehicles, specially designed for executing construction tasks, most frequently ones involving earthwork operations. They are also known as, construction equipment, construction plant, earth movers, engineering vehicles, or simply equipment. Road construction requires the creation of a continuous right-of-way, overcoming geographic obstacles and having grades low enough to permit vehicle or foot travel. Processes during earthwork include excavation, removal of material to spoil, filling, compacting, construction and trimming.
Keywords