Stock Footage
Soup Kitchen Breadline The Bowery Nyc 1930S (Vintage Film Home Movie) 4735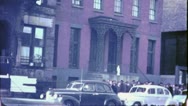 Additional Information
Location
New York City, Lower East Side, NYC, United States
Source
HD digital frame-by-frame telecine transfer of home movie footage.
Date Uploaded
11 Oct 2012
Description
Click to see all Vintage Film New York City video clips
















































A soup kitchen, bread line, meal center or food kitchen is a place where food is offered to the hungry for free or at a below market price. Frequently located in lower-income neighborhoods, they are often staffed by volunteer organizations, such as church or community groups. Soup kitchens sometimes obtain food from a food bank for free or at a low price, because they are considered a charity, which makes it easier for them to feed the many people who require their services. Bowery commonly called "the Bowery", is a street and a small neighborhood in the southern portion of the New York City borough of Manhattan.
Keywords