Stock Footage
Grand Army Plaza Arch Brooklyn Flatbush 1940S (Vintage Film Home Movie) 4778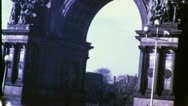 Additional Information
Location
New York City, Manhattan, USA, America, NYC, The Big Apple, United States
Source
HD digital frame-by-frame telecine transfer of home movie camera footage.
Date Uploaded
12 Oct 2012
Description
Click to see all Vintage Film New York video clips...















































GRAND ARMY PLAZA Arch Brooklyn Flatbush 1940s (Vintage Retro Film Home Movie). Grand Army Plaza is the main entrance of Prospect Park, Brooklyn, New York, and consists of concentric oval rings arranged as streets, with the outer ring being the namesake Plaza Street. The inner ring was originally intended to be a circle, but it actually was arranged as a main street Flatbush Avenue with eight radial roads connecting: Vanderbilt Avenue; Butler Place; Saint John's Place; Lincoln Place; Eastern Parkway; Prospect Park West; Union Street; and Berkeley Place. As completed, the only streets that penetrate to the inner ring are Flatbush Avenue, Vanderbilt Avenue, Prospect Park West, Eastern Parkway, and Union Street.
Keywords