Stock Footage
Ebbets Field Baseball Stadium Nyc 1940S (Vintage 16Mm Film Home Movie) 4782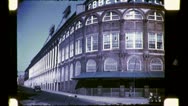 Additional Information
Location
Flatbush, Brooklyn, New York, United States
Source
HD digital frame-by-frame telecine transfer of home movie camera footage.
Date Uploaded
12 Oct 2012
Description
Click to see all Vintage Film NYC video clips















































Ebbets Field was a Major League Baseball park located in the Flatbush section of Brooklyn, New York, USA, on a city block which is now considered to be part of the Crown Heights neighborhood. It was the home of the Brooklyn Dodgers of the National League. It was also a venue for professional football. The first National Football League team in New York City, the New York Brickley Giants used the stadium in 1921, as did the NFL's Brooklyn Lions in 1926. Two different incarnations of a Brooklyn Dodgers football team also used Ebbets Field as their home stadium, as did the Brooklyn Tigers of the second AFL before they moved to Rochester in November 1936. The field was demolished in 1960 and replaced with apartment buildings.
Keywords