Stock Footage
Atomic Bomb Dome And Peace Memorial Park, Japan Second World War Monument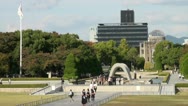 Description
In this overview shot the cenotaph, Flame of Peace, the Atomic Bomb Dome, and the Japanese flag are all visible, amidst the autumn colors of the trees.

The Atomic Bomb Dome served as the 'Industrial Promotion Hall' until the atomic bomb exploded almost directly above it. Everyone inside was killed but the building itself was one of the few left standing anywhere near the epicentre. The decision was made after the war to preserve the shell of the building as a memorial. It was declared a Unesco World Heritage Site in December 1996.

The Hiroshima Peace Memorial Museum is located in Hiroshima Peace Memorial Park, in central Hiroshima, Japan. It was established in August 1955 with the Hiroshima Peace Memorial Hall (now the International Conference Center Hiroshima). The museum exhibit presents the facts of the atomic bombing, with the aims of contributing to the abolition of nuclear weapons throughout the world, and of promoting world peace.
Keywords