Stock Footage
Black Sharecropper African Black American 1970S Vintage Film Home Movie 6243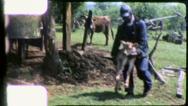 Technical Information
Additional Information
Location
Detroit, Pittsburgh, Harlem, Los Angeles, United States
Source
HD telecine frame-by-frame transfer of film footage.
Date Uploaded
30 Nov 2012
Description
Click to see all Vintage Film African American video clips...











































African Americans (also referred to as Black Americans or Afro-Americans, and formerly as American Negroes) are citizens or residents of the United States who have at least partial ancestry from any of the native populations of Sub-Saharan Africa and are the direct descendants of enslaved Africans within the boundaries of the present United States. Most African Americans are of West African descent. However, some immigrants from African, Caribbean, Central American or South American nations, or their descendants, may also self-identify with the term.
Keywords