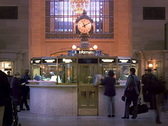 Technical Information
Additional Information
Location
Manhattan, New York, united states
Date Uploaded
18 Sep 2009
Description
Select from any of these available video formats:
Broadcast Formats:
720X486 NTSC
720X576 PAL
1920X1080 HD
MultiMedia Formats:
320x240
400x300
480x270
640x480
Click here to see more views of New York.
Credit: Dale Adam Zoghlin
Grand Central Information Booth New York
Train passengers at the Information Booth. Crowds of people wait below the clock on the busy main floor of Grand Central Station. Shot in Grand Central Station railway terminal New York USA.
Grand Central Terminal is sometimes called Grand Central Station or simply Grand Central. The terminal is located at 42nd Street and Park Avenue in Midtown Manhattan in New York City, USA. It is the largest train station in the world by number of platforms.
The center of Grand Central is called the Main Concourse. The enormous space contains the ticket booths, main information booth and entrances to the gates of the Metra rail trains. The main information booth is in the center of the concourse. The brass and marble booth is topped with the famous four-faced clock, which has become an icon of New York. The clock faces are made from opal, and have an estimated value of between $10 million and $20 million US Dollars.
See our other images for more on this subject and other formats of this video.
Keywords