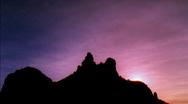 Description
Select from any of these available video formats:
Broadcast Formats:
1920X1080 HD
720X486 NTSC
720X576 PAL
MultiMedia Formats:
320x240
400x300
480x270
640x480
Click here to see more views of American West Landscapes.
Credit: Dale Adam Zoghlin
Sedona Arizona Silhouette Rock
The rocky mountain peaks of Sedona Arizona stand in silhouette against a purple sky at sunrise.
Like many of the formations in Sedona, the sandstone and limestone have been shaped by wind and water over millions of years to form these spectacular red rock vistas. The desert landscape was once the bottom of an inland ocean hundreds of millions of years ago. As the climate changed, erosion took its course on the geology of the region. The famous red rock found in the Sedona area is known as the Schnebly Hill Formation. The striking buttes have become synonymous with the pioneers, cowboys and Native Americans of the 19th century Wild West. Today, the area has become a major landmark and travel destination.
See our other images for more on this subject and other formats of this video.
Keywords