Stock Footage
Teenage Girls College Campus Student School 1959 Vintage Old Film Home Movie 100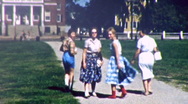 Technical Information
Additional Information
Location
Everytown, USA, United States
Source
HD digital frame-by-frame telecine transfer of home moive footage.
Date Uploaded
12 Jun 2011
Description
Click to see all Vintage Film Teenage Girls video clips...













































Adolescence (from Latin: adolescere meaning "to grow up") is a transitional stage of physical and mental human development generally occurring between puberty and legal adulthood (age of majority), but largely characterized as beginning and ending with the teenage stage. According to Erik Erikson's stages of human development, for example, a young adult is generally a person between the ages of 20 and 40, whereas an adolescent is a person between the ages of 13 and 19. Scholars have found it incredibly difficult to agree upon a precise definition of adolescence, because it can be approached from so many angles.
Keywords