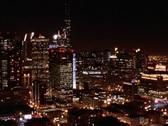 Description
Select from any of these available video formats:
Broadcast Formats:
1920X1080 HD
720X486 NTSC
720X576 PAL
MultiMedia Formats:
320x240
400x300
480x270
640x480
Click here to see more Chicago in Time-lapse.
Credit: Dale Adam Zoghlin
Chicago Skyline Lights at Night in Time-lapse
The lights of the Chicago skyline radiate at night in time-lapse. The city center of downtown Chicago, Illinois is known as The Loop. The urban metropolis, bordered by Lake Michigan and the Chicago River, has many of the tallest buildings in the world including the Sears Tower (Willis Tower). The city's architecture is famous for its mix of modern steel and glass office towers and classical structures, including those designed by architects Louis Sullivan, Daniel Burnham, John Wellborn Root and others. Also known as the Windy City, Chi-Town, Second City and the City of Big Shoulders, modern Chicago has become a major industrial hub, financial district and international travel destination.
See our other images for more on this subject and other formats of this video.
Keywords