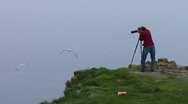 Technical Information
Additional Information
Location
Cape St. Mary's, Newfoundland, Canada
Source
Panasonic AGHVX200
Date Uploaded
30 Aug 2011
Description
Located about 200 km southwest of St. John's, Cape St. Mary's Ecological Reserve also known as "the Cape" is one of Newfoundland and Labrador's major seabird colonies. During the breeding season, it is home to 24,000 Northern gannet, 20,000 black-legged kittiwake, 20,000 common murre, and 2,000 thick-billed murre. In addition, more than 100 pairs of razorbill, more than 60 pairs of black guillemot, plus double-crested and great cormorant, and Northern fulmar nest there.

What makes it so spectacular, however, is that all these birds can be seen from land, as close as 10 metres away.

Most of the Northern gannets, for example, make their nests on "Bird Rock"—a 100-metre-tall stack of sandstone that is separated from the viewing area by a chasm only a few metres wide. The gannets' courtship, nesting, and feeding behaviours, interactions, and delicate flying manoeuvres over the crowded sea stack are endlessly fascinating and easily observed from the natural, cliff-top viewing area.
Keywords