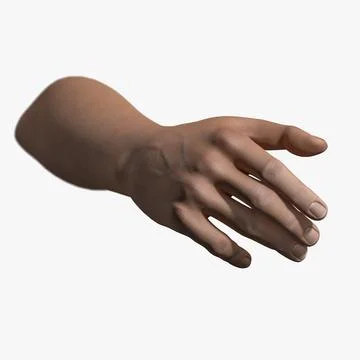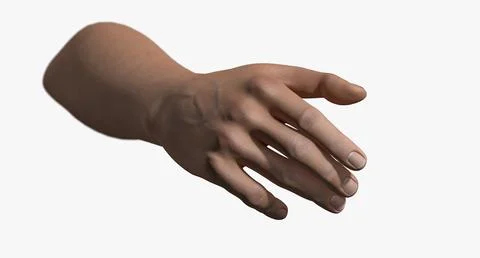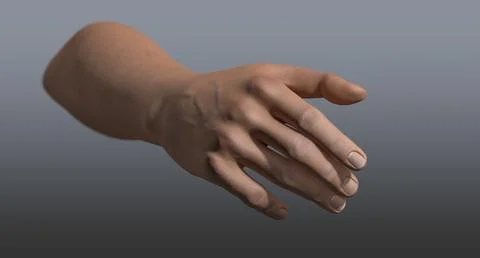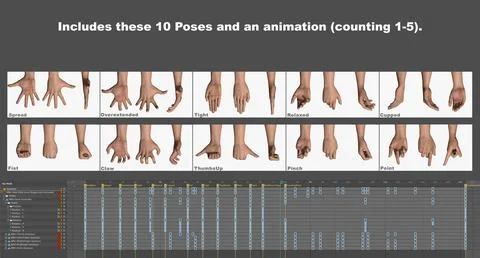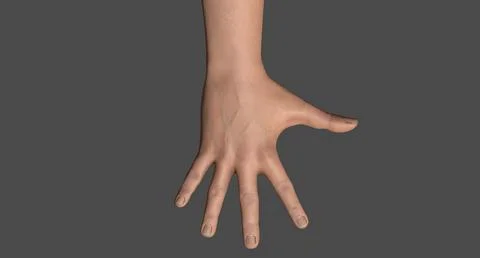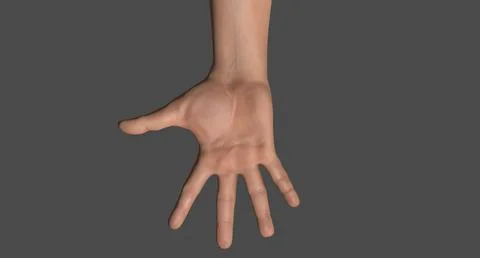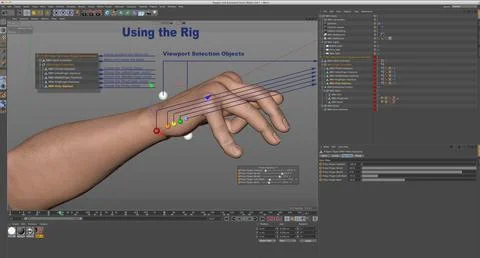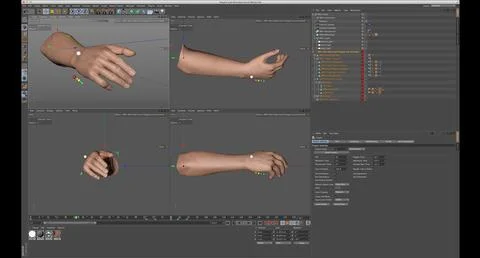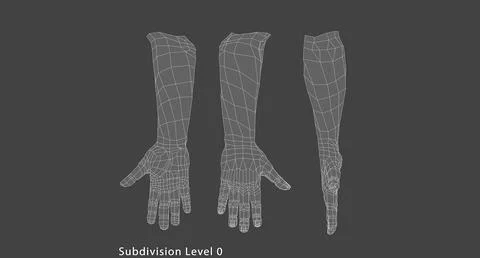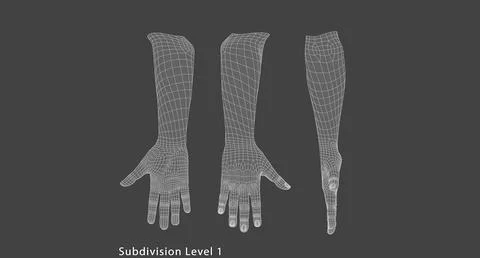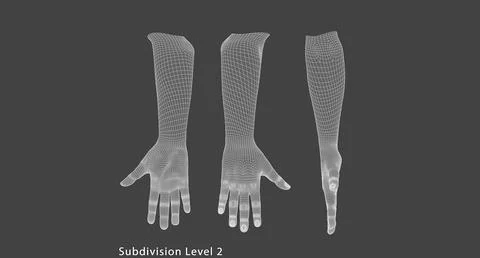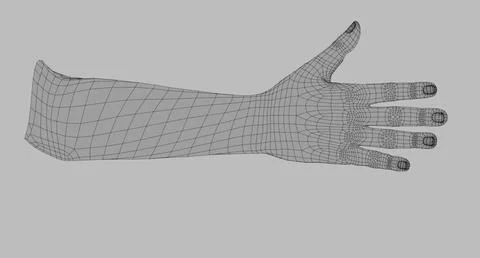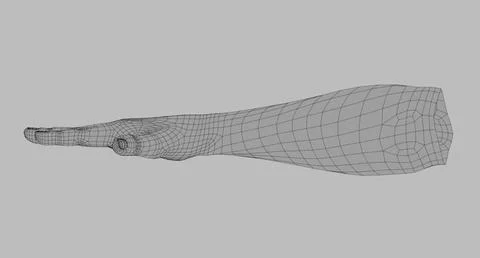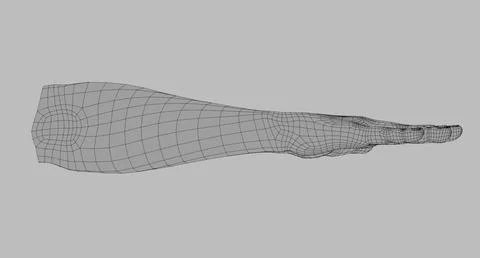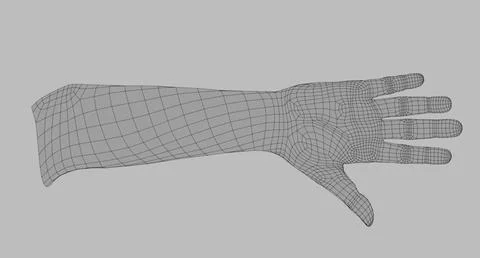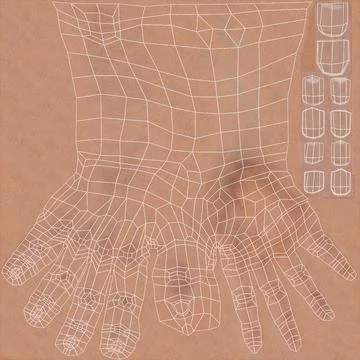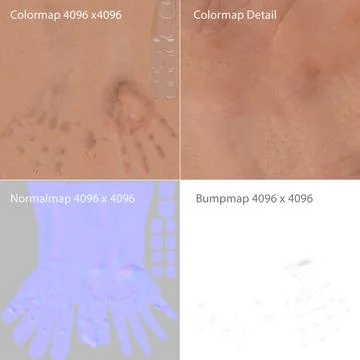 Beschreibung:
THE RIG WAS UPDATED ON DECEMBER 15 2015.
IF YOU DOWNLOADED BEFORE THEN, PLEASE DOWNLOAD AGAIN!
-----------------------------------------------------------------------

This is a rigged and animated 3D-model of a right hand with lower arm (caucasian male) built to real-world-scale (1unit = 1cm).

IF YOU NEED A FEMALE HAND:
please also see Rigged and Animated Hand (Female) -- Product ID: 992671

The model is polygonal, subdividable and highly detailed to be usable in close-ups.

The easy to use custom rig has been built especially for this model. There is only one Controller-Object to move and rotate the hand. The rotations of the finger-joints are all controlled via sliders in the attribute-manager or HUD. Special Selection-Objects make it easy to select the controllers in the viewport. See the preview-image for details.

The model consists of of 2 separate objects:

1: MRH-Hand (with arm): 866 Vertices, 863 Polygons (858 Quads / 5 Tris)

2: MRH-Fingernails: 150 Vertices,140 Polygons (all Quads)

"MRH" stands for "Male Right Hand". This Abbreviation is a prefix to all objects of this model. This way parts of this model are easily identified in a large scene with many other objects.

The model was created with CINEMA4D Release16 Studio and needs the 'Advanced Render' Module to render exactly like the thumbnails (The "Physical Rerderer" with GI, Ambient Occlusion and Subsurface Scattering were used). It also works with earlier Versions (R14 an R15 have been tested). Renders made with C4D Prime or other applications will look slightly differently.

------------------------------

Both Objects are UV-Mapped (non overlapping) and use these included textures:

MRH_Color.jpg (4096 x 4096 pixels)
MRH_Bump.jpg (4096 x 4096 pixels)
MRH_Normals.jpg (4096 x 4096 pixels)
MRH_Specular.jpg (4096 x 4096 pixels)


The zip-file contains the rigged and animated Hand-model with nails as well as the texture maps.
The file also contains the scene (cameras, lights and a sphere with HDRI-Image) used to make the thumbnails.


Thumbnail-images are rendered with CINEMA 4D Release16 Studio. Global-Illumination, Ambient Occlusion and Subsurface-Scattering (in the Luminance Channel) are used.
No third-party renderer or plug-ins needed.
3D-Modell
Rigged And Animated Hand (Male)
Artikel-Identifikation:
90657829
Kommerzielle Nutzung
?
Inhalt allgemein verfügbar für Werbung, Promotionen, Merchandising oder andere kommerzielle Nutzungen.
Bestpreisgarantie
?
Du hast diesen Artikel woanders zu einem niedrigeren Preis gefunden? Wir passen unseren an. Mehr Details hier.
Individual License Inbegriffen
|