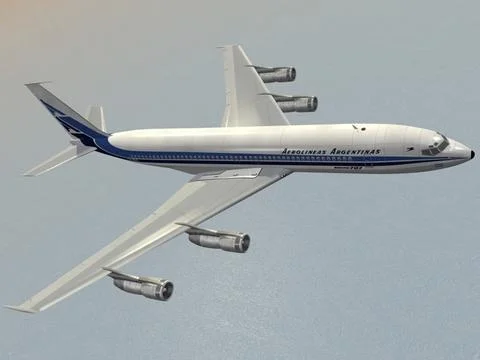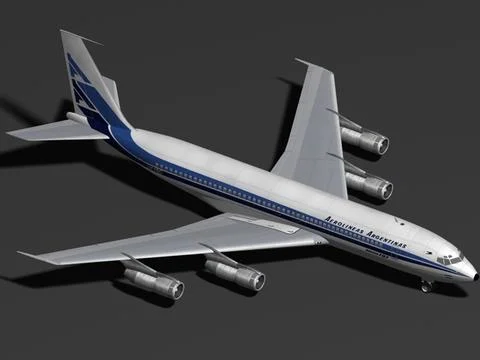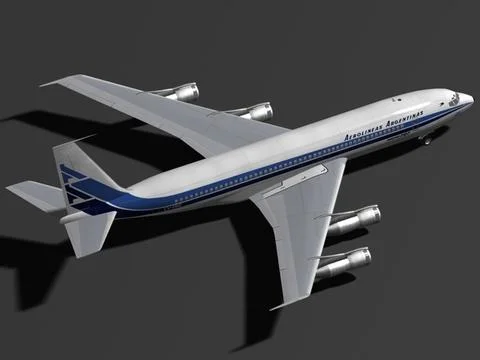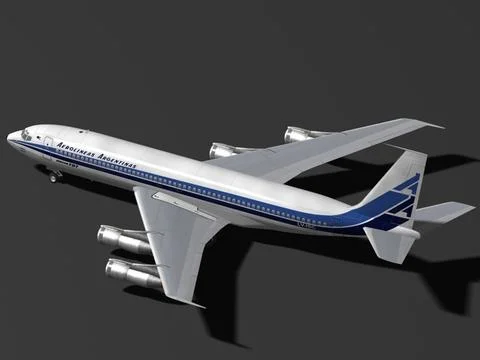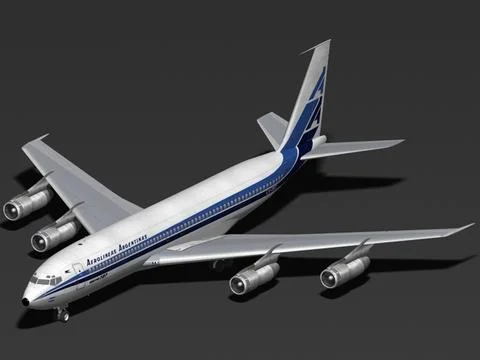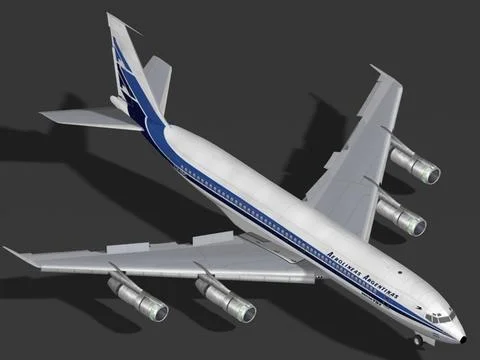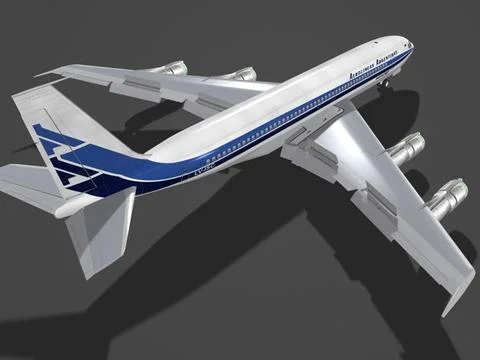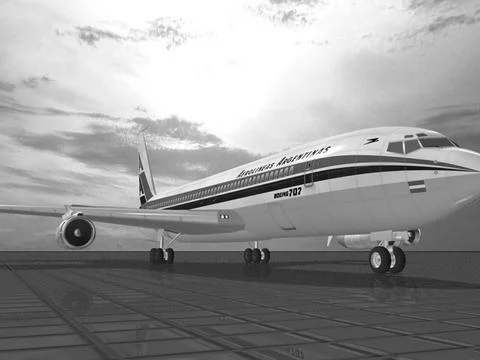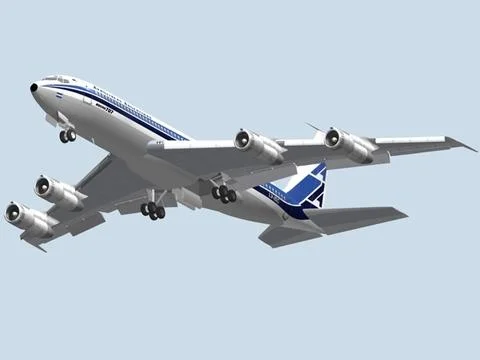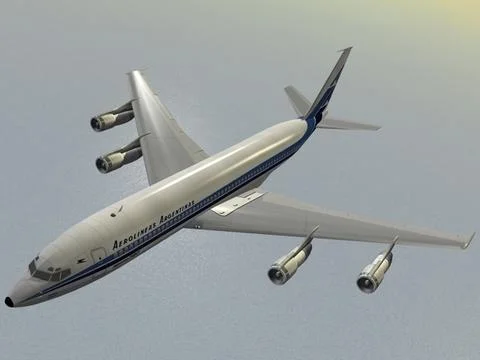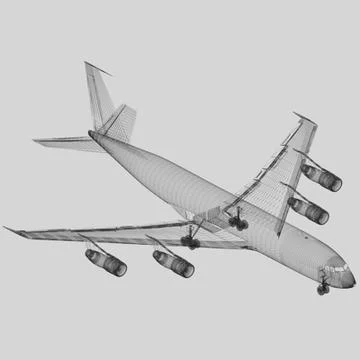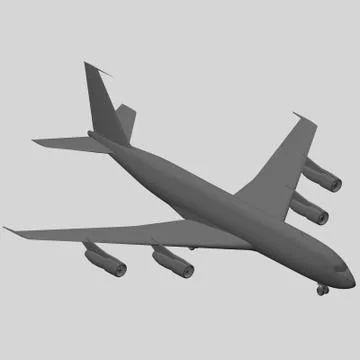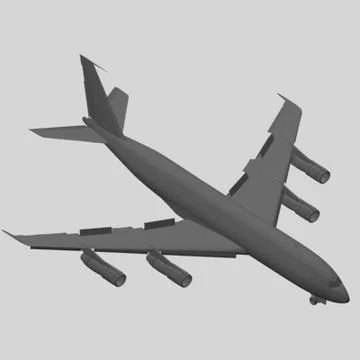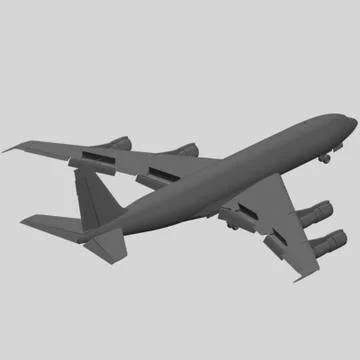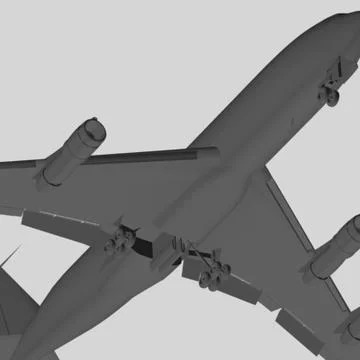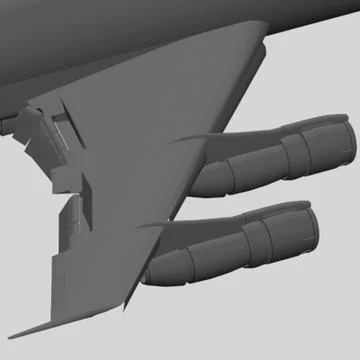 Beschreibung:
3D model

* Very high definition and highly detailed 3d model of the Boeing 707-300. Paint scheme: Aerolineas Argentinas (70s-80s).

* Animatable parts: Landing gear, wheels, landing gear doors, fans, thrust reversers and flight control surfaces.

* The model is provided in 2 versions, with landing gear and without it for aerial scenes. In the version for aerial scenes, the landing gear has been removed and it has 111590 polygons.

* The scenes are NOT included.

History

This is the venerable Boeing 707. Commercial history was made when Pan American World Airways inaugurated trans-Atlantic 707 jet service between New York and Paris in 1958. Then, jetliners rapidly entered service throughout the world. The first commercial 707s, labeled the 707-120 series, had a larger cabin and other improvements compared to the prototype. These initial 707s had range capability that was barely sufficient for the Atlantic Ocean. Other variants were developed for special use, including shorter-bodied airplanes and the 720 series, which was lighter and faster with better runway performance. Then, the larger 707-320 Intercontinental series with a longer fuselage, bigger wing and higher-powered engines was quickly developed.

------------------------------------------------------------------------------------------------------------------

Pedro Faut is an Argentine modeler with over a decade of work in 3D. Specializing in building high definition, accurate, and detailed 3D models of commercial and military airplanes, he is the artist to turn to when in need of high quality work. Although Pedro Faut specializes in modeling planes, he is also skilled in many 3D arenas.

Also: see Pedro Faut's CheckMate certified products for models that are guaranteed.

The airplanes modeled by Faut are above and beyond what is expected in a 3D model. In many of his designs you will find real life detail, animatable parts, high resolution textures, and often additional modeling of interior components (available when listed in product description).

If you have any questions about the detail of a model, or any concerns, please open a support ticket and the support team will bring your question to me.
3D-Modell
Boeing 707-300 Aerolineas Argentinas
Artikel-Identifikation:
91436214
Editorielle Nutzung
?
Inhalte, die berichtenswert oder von allgemeinem öffentlichem Interesse sind und nicht für Werbung, Promotion, Merchandising oder andere kommerzielle Zwecke freigegeben sind.
Bestpreisgarantie
?
Du hast diesen Artikel woanders zu einem niedrigeren Preis gefunden? Wir passen unseren an. Mehr Details hier.
Individual License Inbegriffen
|