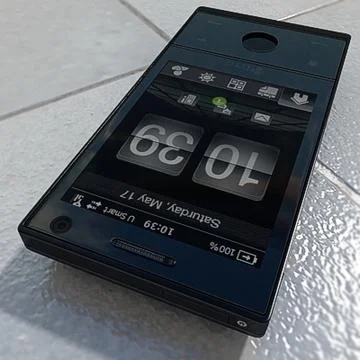 Beschreibung:
HTC Touch Diamond

Extremely realistic model of HTC Touch Diamond - one of the best PDA phones in 2009.

-Model is made in 3D Studio MAX, but there is a great choice of formats available for download: C4D, OBJ, 3DS, MAX (v9), DXF, MAX (v2009), FBX...
There are also included versions with and without VRay.
-Model is entirely textured and all textures are included (each format package contains all necessary textures) and even HDR map.
-Screen texture is separated and easy to change. 3 Original different screen textures included.
-The scene from preview images is also included, so the model is entirely render-ready.
-Mesh has subdivision applied, so it"s polygon number can be changed:
from 2.809 polygons up to infinity (preview images are rendered with 91.252 polygons)
-The phone is modeled with great attention to the tiniest details and everything is equal to the oriinal model

Enjoy the model.
3D-Modell
Htc Touch Diamond (High Quality)
Artikel-Identifikation:
91487945
Editorielle Nutzung
?
Inhalte, die berichtenswert oder von allgemeinem öffentlichem Interesse sind und nicht für Werbung, Promotion, Merchandising oder andere kommerzielle Zwecke freigegeben sind.
Bestpreisgarantie
?
Du hast diesen Artikel woanders zu einem niedrigeren Preis gefunden? Wir passen unseren an. Mehr Details hier.
Individual License Inbegriffen
|