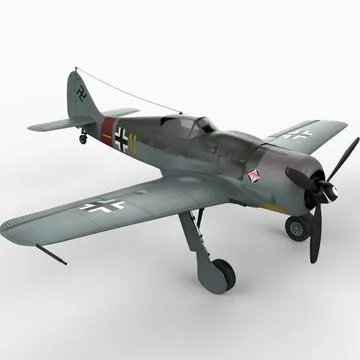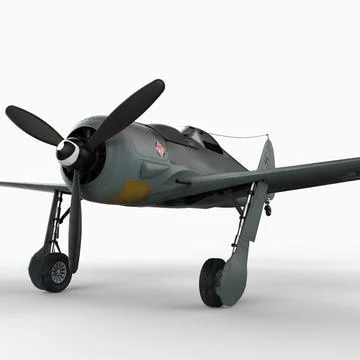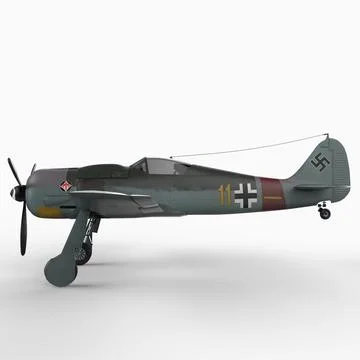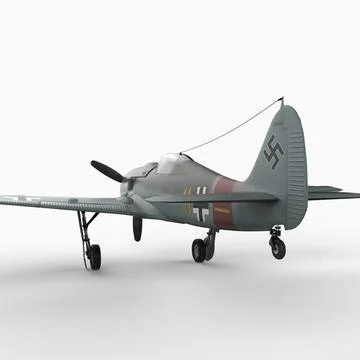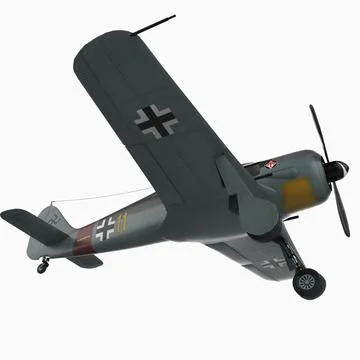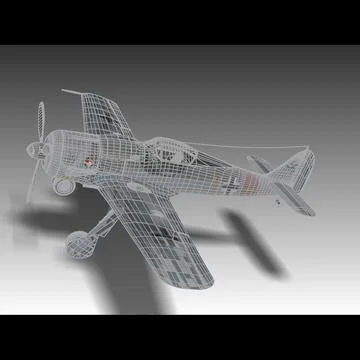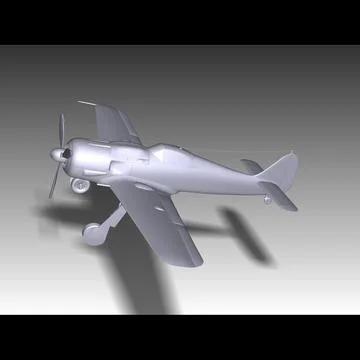 Beschreibung:
A Focke-Wulf Fw 190 model has been included

Textures

Detailed textures are provided including bump.

History

The Focke-Wulf Fw 190 Wurger was a German single-seat, single-radial endine fighter aircraft designed by Kurt Tank in the late 1930s. It was used by the

Luftwaffe during the Second World War in a variety of roles. Like the Bf 109, the Fw 190 was employed as a "workhorse", and proved suitable for a wide variety of roles, including air superiority fighter, strike fighter, ground attack aircraft, escort fighter, and operated with less success as a night fighter. Early 190s performance decreased at high altitudes (usually 6,000 m (20,000 ft) and above) which complicated its use as a high-altitude interceptor, but these complications were mostly rectified in later models, notably the Focke-Wulf Fw 190D variant in the autumn of 1944. In spite of its successes, it never entirely replaced the me-109.When it was first introduced in 1941 it was quickly proven to be superior in all but turn radius to the Royal Air Force"s main front-line fighter, the Spitfire Mk. V varient. The 190 wrested air superiority away from the RAF until the introduction of the vastly improved Spitfire Mk. IX in the autumn 1942 restored qualitative parity. Improvements to the 190 were met by similar improvements in its opponents throughout the middle of the war, allowing the 190 to maintain relative parity with its Allied counterparts until the widespread introduction of the P-51 M ustang in early 1944.
3D-Modell
Focke-Wulf Fw 190
Artikel-Identifikation:
91500728
Editorielle Nutzung
?
Inhalte, die berichtenswert oder von allgemeinem öffentlichem Interesse sind und nicht für Werbung, Promotion, Merchandising oder andere kommerzielle Zwecke freigegeben sind.
Bestpreisgarantie
?
Du hast diesen Artikel woanders zu einem niedrigeren Preis gefunden? Wir passen unseren an. Mehr Details hier.
Individual License Inbegriffen
|