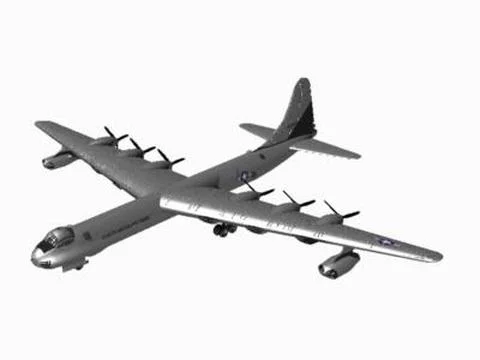 Beschreibung:
The Convair B36 remains to this day the biggest bomber ever built, with its six piston engines and four jet engines it was a hugely impressive aeroplane. The origins of the B36 began early in the second World War and the threat of Nazi Germany, when the USA began to consider the possibility of attacking European targets without the benefit of British airfields. In order to do this, the United States would need a bomber far bigger than the B29, (which had not yet flown) which would have sufficient range, and the ability to deliver a worthwhile payload. The possibility of an atomic bomb added impetus to the project.

When the prototype XB-36 was rolled out of the factory in September 1945, the atomic bomb was a reality and the United States had high hopes that their massive new bomber capable of transcontinental bombing missions would be an ultimate deterrent. Unfortunately, like so many aircraft designed around the piston engine during the 1940"s the B36 was essentially made obsolescent by the jet engine. In addition to this as the yield of nuclear weapons increased, the B36 was found to be far too slow. For example, the nominal payload of the B36 at one point was a 40 megaton high yield thermonuclear bomb and you don"t really want to deliver a weapon of that size and stroll away at 400 mph. In order to increase the performance of the B36 over the target four jet engines were mounted in pods underneath the outer wings to give the B36 a bit of "sprint speed".

The B36 reached it"s peak in the SAC inventory in 1955 when about 370 of the type were in service. From that point on the B36 was rapidly replaced by the B47 and the B52. Despite its hugeness and unparalelled range the B36 proved to be a dinosaur, being difficult to maintain, expensive to service and frequently grounded due to unservicable engines. Despite this the B36 was an important aircraft, being the only aircraft in SAC"s inventory which could truly be regarded as a nuclear deterrent to the Soviet Union during the diificult early post war years.
Artikel-Identifikation:
91536838
Editorielle Nutzung
?
Inhalte, die berichtenswert oder von allgemeinem öffentlichem Interesse sind und nicht für Werbung, Promotion, Merchandising oder andere kommerzielle Zwecke freigegeben sind.
Bestpreisgarantie
?
Du hast diesen Artikel woanders zu einem niedrigeren Preis gefunden? Wir passen unseren an. Mehr Details hier.
Individual License Inbegriffen
|