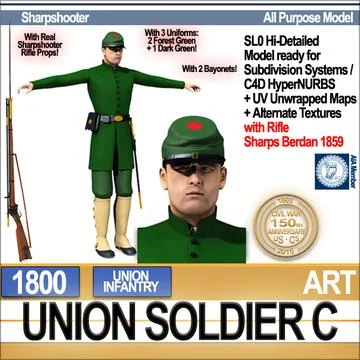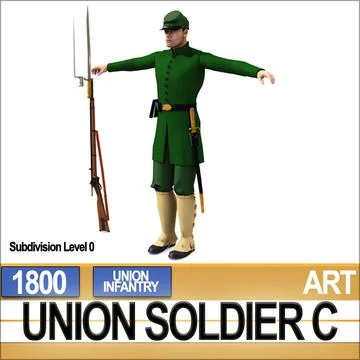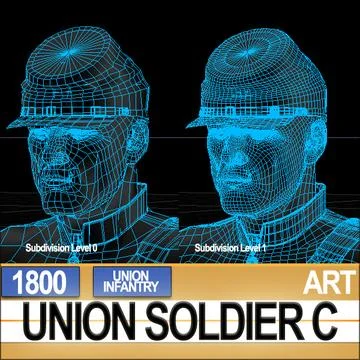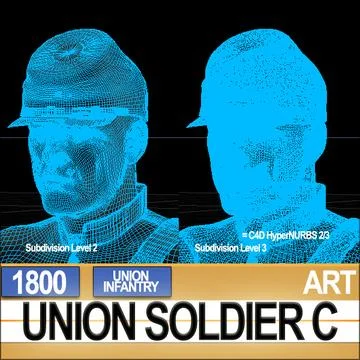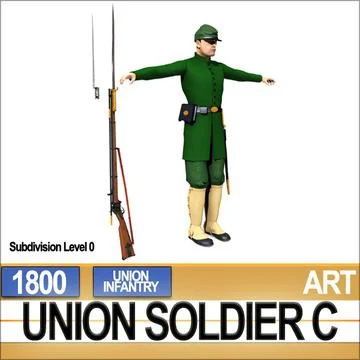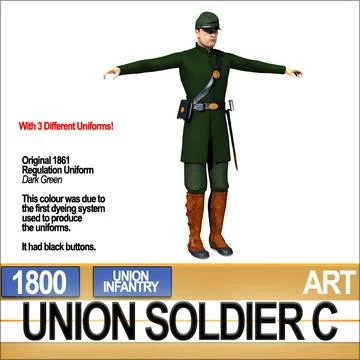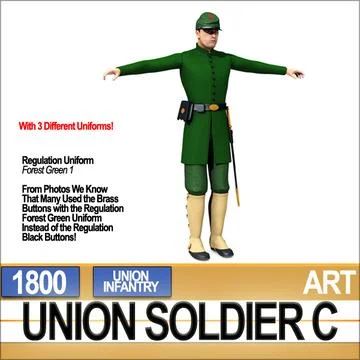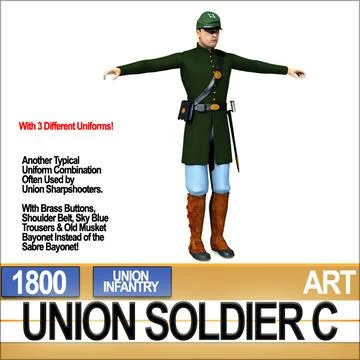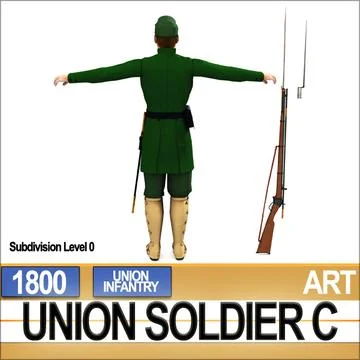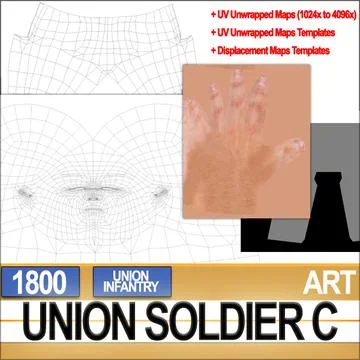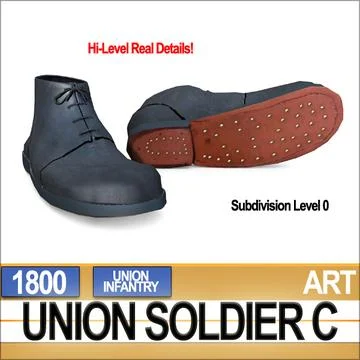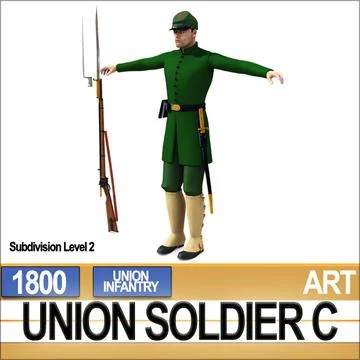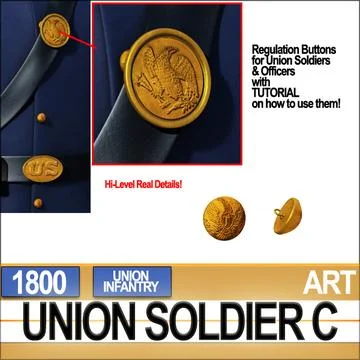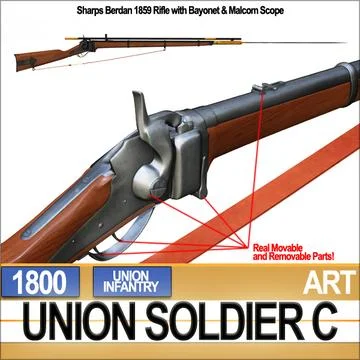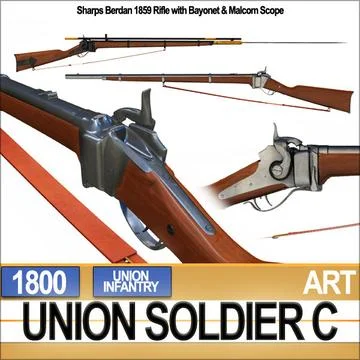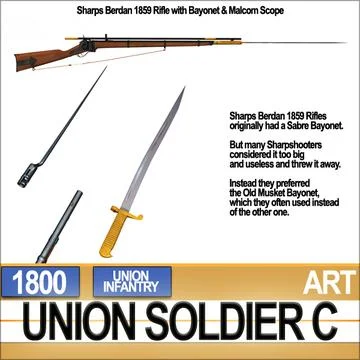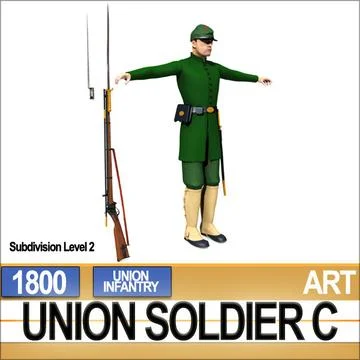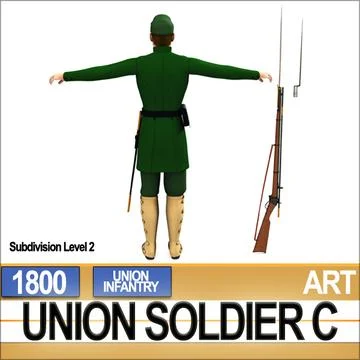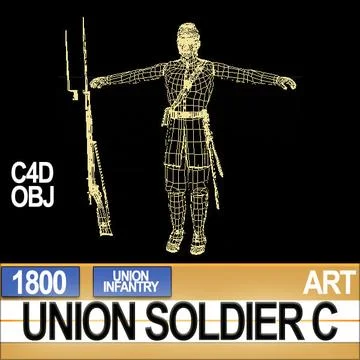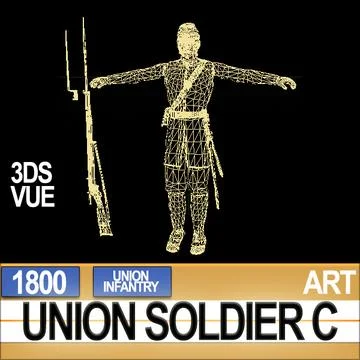 Vergleiche Artikelbeschreibung
Civil War Union Soldier C Infantry Sharpshooter
Civil War Union Soldier C Infantry Sharpshooter, Character with 16 Props. With Sharps Berdan 1859 Rifle. More than 91 HD Textures with 7 Unwrapped UV Maps. Faithful Reconstruction. C4D, 3DS, OBJ, POSER, DAZ, VUE6to12!
___________________________________________
1865-2015: 150th Civil War Anniversary!

Civil War Union Soldier C Infantry Sharpshooter, Character with 16 Props.
Hi-Detailed Subdivision Level 0 Model ready for Subdivion Systems-C4D HyperNurbs.
7 UV Unwrapped Maps. 91 Alternate textures.
With Rifle Sharps Berdan 1859.
All purpose easy editable SL0 model!
Use it as Master Model to create a crowd of different similar characters!
Or create your own project, Low-Poly or High Definition, just by editing the Master Model!

Real World Scale Model . Quads & Tris .

SmartCgArt is member of the Archaeological Institute of America-AIA.

Union Sharpshooters were organized in a special Infantry Units on proposal by firearms inventor Hiram Berdan. US Sharpshooters Units were then organized in Regiments, Battalions and Companies.

Union Sharpshooters mainly used the first successful breech-loading rifle, the Sharps Rifle, and especially the Sharps Berdan 1859 Rifle, known also as the 'truthfull Sharps'.

Sharps Rifles were basically accurate at 800 yards, but with proper additions they could be accurate at 1500 yards! Moreover they could be fired as often as ten times a minute.
A Malcom Scope could be used in combination with the Sharps Rifle.

Faithful and accurate Reconstruction of a 1800 Civil War Union Soldier C Infantry Sharpshooter.

In the package you will find:
1- 1 complete SL0 character;
2- 1 Sculpted Head with 4096x4096 detailed Map;
3- Head with openable mouth and MidLevel gums, teeth, tongue and movable eyes;
4- 1 Sharps Berdan Rifle 1859 typical with all movable parts with 2 removable Bayonets and Malcom Scope;
5- 1 Shirt Elements;
6- 1 Shoulder Belt with decorated Belt Plate and Cartridge Box;
7- 2 complete Bayonets in scabbards ;
8- 1 Waist Belt with typical Belt Plate, Bayonet Scabbards and Caps Pouch;
9- 1 Forage Cap;
10- 1 typical Union Green Frock Coat with typical Infantry buttons for Officers and Soldiers;
11- 1 Trousers;
12- typical Civil War shoes Model D;
13- Sharpshooter typical leggings;
14- 91 Hi-Quality Hi-Def PhotoReal Textures ;
15- 7 UV Unwrapped maps with Templates ;
16- 3 Displacement Templates to be used to paint Cloth wrinkles and details with Tutorial;
17- 8 Textures for Metal rendering or compositing;
18- Alternate textures to customize the models;
19- Real World Scale SmartCgArt Man Reference System with models ;
20- Tutorials on how to use the model and the props.

All the Models are prepared Hi-DEF and Photoreal, perfect for any type of Rendering!

POLYGONS/VERTICES COUNT
C4D-OBJ: only/mostly quads
VUE-3DS: triangulated

Enjoy THE ART - 1800 SERIES.

The ART - 1800 3D series is developing high-fidelity 3D reconstruction of Objects, Architecture and Scenes from 19th Century.
3D-Modell
Civil War Union Soldier C Infantry Sharpshooter
Artikel-Identifikation:
96464693
Kommerzielle Nutzung
?
Inhalt allgemein verfügbar für Werbung, Promotionen, Merchandising oder andere kommerzielle Nutzungen.
Bestpreisgarantie
?
Du hast diesen Artikel woanders zu einem niedrigeren Preis gefunden? Wir passen unseren an. Mehr Details hier.
Individual License Inbegriffen
|