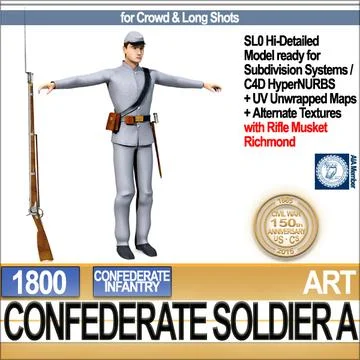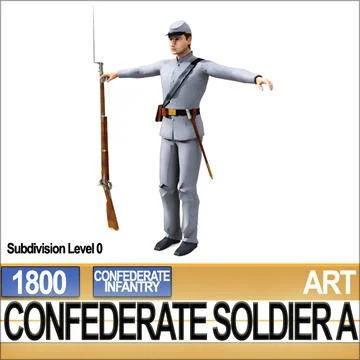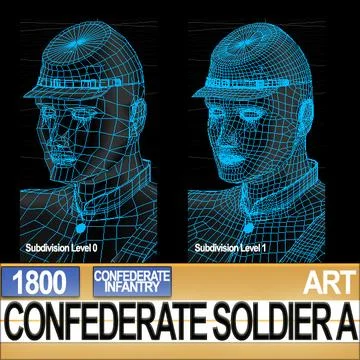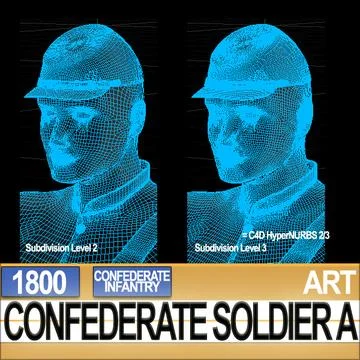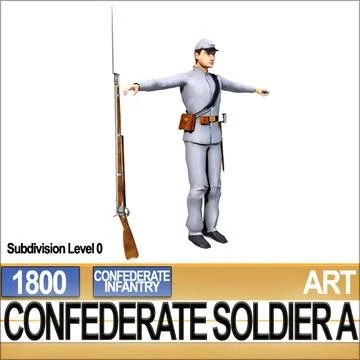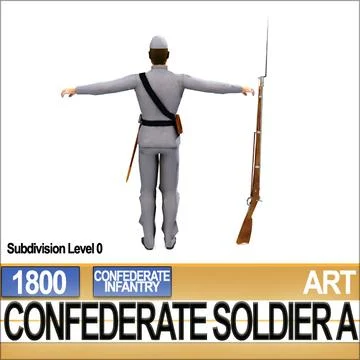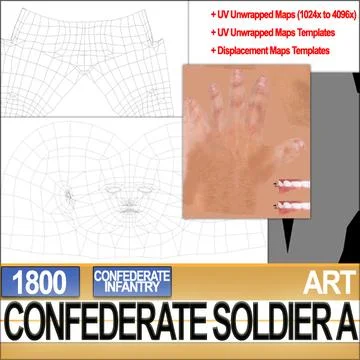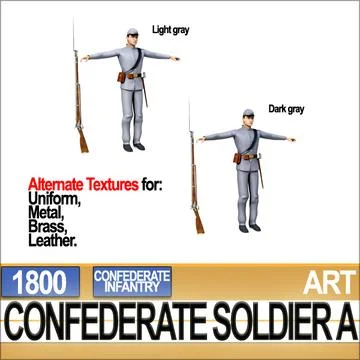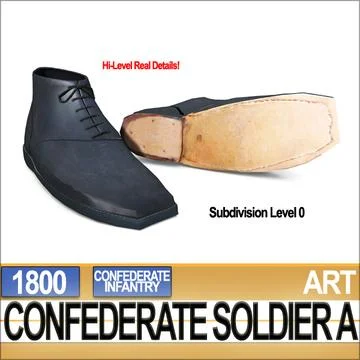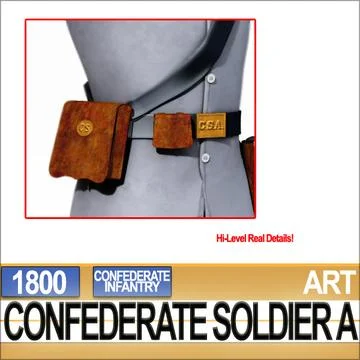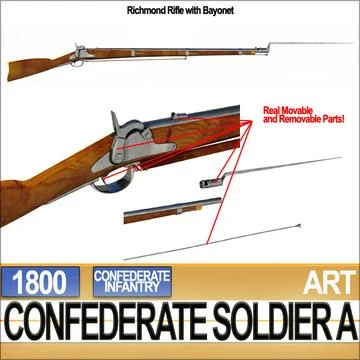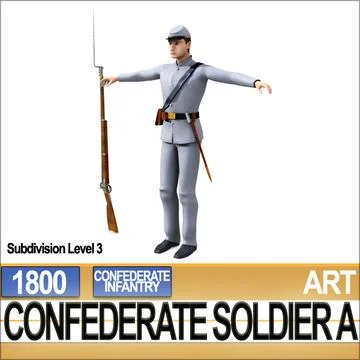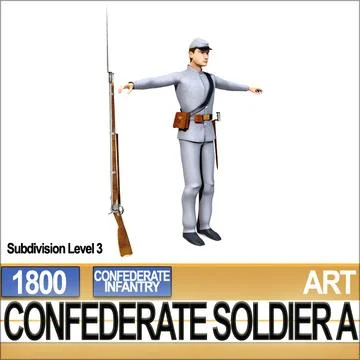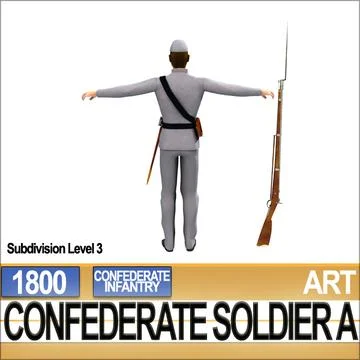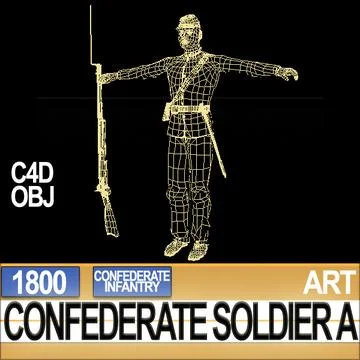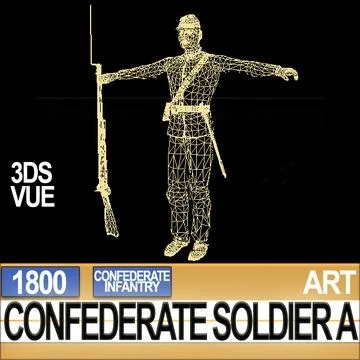 Vergleiche Artikelbeschreibung
Civil War Confederate Soldier A Infantry
Civil War Confederate Soldier A Infantry, Character with 9 Props. With Richmond Rifle Musket. More than 74 HD Textures with 6 Unwrapped UV Maps. Faithful Reconstruction. C4D, 3DS, OBJ, POSER, DAZ, VUE6to12!
____________________________________________
1865-2015: 150th Civil War Anniversary!

Civil War Confederate Soldier A Infantry, Character with 9 Props.
Hi-Detailed Subdivision Level 0 Model ready for Subdivion Systems-C4D HyperNurbs.
6 UV Unwrapped Maps. 74 Alternate textures. With Confederate Richmond Rifle.
Especially for Crowd and Long Shots!

Real World Scale Model . Quads & Tris .

SmartCgArt is member of the Archaeological Institute of America-AIA.

Faithful and accurate Reconstruction of a 1800 Civil War Confederate Soldier A Infantry.

This outfit was commoner among Texas units.
Alternate texture also for Brass to get Confederate Brass:
Confederate brass sometimes had high copper levels, so it appeared reddish.

The Richmond Musket Rifle was the Confederate version of the Union Springfield M1861.

In the package you will find:
1- 1 complete SL0 character;
2- 1 Basic Head with 4096x4096 detailed Map;
3- Head with openable mouth and Basic gums, teeth, tongue and movable eyes;
4- 1 Richmond Rifle Musket typical with all movable parts with removable Bayonet;
5- 1 Cartridge Box with Belt Plate CS;
6- 1 Shoulder Belt;
7- 1 complete Bayonet in scabbard;
8- 1 Waist Belt with typical Belt Plate CSA, Bayonet Scabbard and Caps Pouch;
9- 1 Forage Cap;
10- 1 typical Confederate Sack Coat;
11- 1 Trousers;
12- typical Civil War shoes square Model B;
13- 74 Hi-Quality Hi-Def PhotoReal Textures ;
14- 6 UV Unwrapped maps with Templates ;
15- 3 Basic Cloth Wrinkles displacement maps to edit;
16- 3 Displacement Templates to be used to paint Cloth wrinkles and details with Tutorial;
17- 8 Textures for Metal rendering or compositing;
18- Alternate textures to customize the models;
19- Real World Scale SmartCgArt Man Reference System with models .

All the Models are prepared Hi-DEF and Photoreal, perfect for any type of Rendering!

POLYGONS/VERTICES COUNT
C4D-OBJ: only/mostly quads
VUE-3DS: triangulated

Enjoy THE ART - 1800 SERIES.

The ART - 1800 3D series is developing high-fidelity 3D reconstruction of Objects, Architecture and Scenes from 19th Century.
3D-Modell
Civil War Confederate Soldier A Infantry
Artikel-Identifikation:
96466350
Kommerzielle Nutzung
?
Inhalt allgemein verfügbar für Werbung, Promotionen, Merchandising oder andere kommerzielle Nutzungen.
Bestpreisgarantie
?
Du hast diesen Artikel woanders zu einem niedrigeren Preis gefunden? Wir passen unseren an. Mehr Details hier.
Individual License Inbegriffen
|