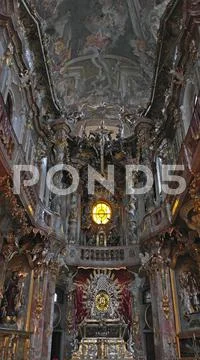 Stock Photo
St. Johann Nepomuk Asam Church In Munich
Description
Description:
St. Johann Nepomuk Church, better known as Asamkirche is a church in Munich, southern Germany, built from 1733 to 1746 by the Asambrothers.

The Asam brothers, great pioneering artists of the Rococo period, belong to the most important church architects of the German late Baroque, they have also built many other churches in Bavaria. With just 12 rows of pews, Asamkirche is one of Munich's smallest but certainly one of its most opulent. The property is just 22 to 8 meter. The grace and detail of the amazing craftsmanship is simply breathtaking and it was definitely a wonderful challenge to capture the magnificent beauty of this church.

Egid Quirin Asam designed the church as confession church for the youth. So the small churchs has got seven confessionals with allegorical scenes. Here you can see the amazing interior of this rococo church. You can also find more pictures of the Asam Kirche on my Pond 5 site. Thank you for visiting my profile.
Additional Information
Location:
München / Munich, DEU
Focal Length:
20.0 mm (35 mm equivalent: 30.0 mm)
Creation Date:
2013:02:08 17:18:41
ICC Profile Name:
sRGB IEC61966-2.1
More Photos From Artist
Related Results