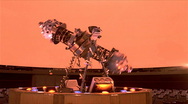 Description
Select from any of these available video formats:
Broadcast Formats:
1920X1080 HD
720X486 NTSC
720X576 PAL
MultiMedia Formats:
320x240
400x300
480x270
640x480
Click here to see more astronomy and the moon.
Credit: Dale Adam Zoghlin
Adler Planetarium Astronomy Show
The planetarium's Sky Theater utilizes a Zeiss projector to display the night sky on the building's interior dome.
Founded by philanthropist Max Adler, the Adler Planetarium was the first planetarium built in America and is currently the oldest in the United States. Located in Chicago, Illinois on the shore of Lake Michigan, the facility resides on Chicago's Museum Campus, located in Grant Park, beside the Field Museum of Natural History and the John G. Shedd Aquarium.
The building was designed by architect Ernest Grunsfeld, JR and built in 1930. Each of the building's twelve corners has a plaque representing the signs of the zodiac.
The Adler Planetarium was declared a National Historic Landmark in 1987 and is on the U.S. National Register of Historic Places.
See our other images for more on this subject and other formats of this video.
Keywords